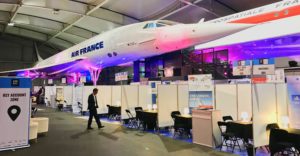 Sud Industrie Service participated at the Toulouse Space Show Journées and the ASD Days at the Musée du Bourget.
A must-attend event for the space industry with national and international professionals from the "New Space" sector.
Toulouse Space Show
For the 2018 edition, Toulouse Space Show announced about 3000 visitors. This major space trade event is growing in size and is leading national and international groups towards a revolutionary nanosatellite economy.
On the agenda of this meeting were conferences led by world leaders, round tables, stands of national and international exhibitors.
In partnership with Pôle Mont-Blanc Industrie and the French Bar Turning Association (SNDEC), Sud Industrie Service exhibited equipped subassemblies from different technologies (Machining & Treatment, Aluminium monoblocks, Assy (Laser, Tig, Riveting), cabels and embedded electronics).
ASD Days at the Musée du Bourget
As for the ASD Days 2018 at the Musée du Bourget, the international aeronautics event brought together both industrial groups and innovative start-ups in order to be discovered and showcase their know-how, the opportunity to promote concrete technological and innovative solutions to purchasing, R&D and innovation decision-makers in the Aerospace world.
For the record, in 2017, more than 450 satellites were put into orbit, not to mention the 80 nano-satellites (cubes) "released" from the orbital stations.
A revolution is taking place with aerospace players, whether on:
the new launchers of the New Space (Falcon 9 of Space X – reusable), Blue origin, Vulcan (Boeing and Lockheed Martin), OneWeb.
and developments with the new Ariane 6, very suitable for the deployment of satellite constellations, the Soyuz with the adaptation of Proton and the launch of Angara for the Russians
and low-level satellite orbits (Strato Launch, Virgin Orbit)
The rise of China, Japan and India (GSLV-Mark III of ISRO)
The battle is on the lightening of satellite structures and the rate per kilogram in orbit with Space X around 2500 dollars against 5000 to 10 000 for Ariane 6 by 2020.
Come and meet us for your projects!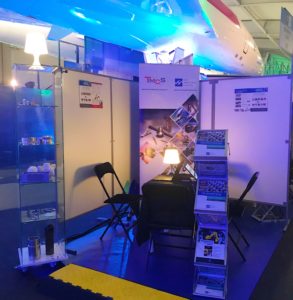 * Pôle Mont-Blanc Industrie / Mont-Blanc Industries competitiveness cluster
www.montblancindustries.com
** SNEDEC – Syndicat national du Décolletage / French Bar Turning Association
www.snedec.com